Hyundai Ioniq (Electric & Hybrid) Owner Manual's
---
Hyundai Ioniq (Electric & Hybrid)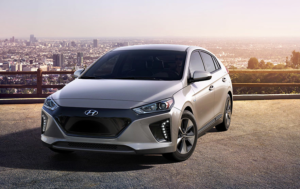 The Hyundai Ioniq is a five door sedan offered in 3 different types of environmentally friendly propulsion methods.
You are able to buy the Ioniq as either a full electric, plug-in hybrid or mixed fuel/hybrid combination of engine.
You can find the owner manuals for all 3 types of car on this page for the corresponding year below.
The hybrid version alone is more fuel-efficient than the market leading Toyota Prius and is powered by a 1.6 liter petrol engine mated to a 6 speed dual clutch transmission.
The full-electric version has a range of 200 kilometres which surpassed the manufacturers own target of 180 kilometres. The car can fully recharge overnight using a normal domestic household electricity supply. When compared to a normal fuel driven car the expected efficiency expected is quoted as being the same as achieving 122 miles per gallon of fuel.
The plug-in hybrid version of the Ioniq is quoted as being able to achieve an amazing 125 miles to the gallon equivalent when given a full charge.
When the plug-in hybrid version is driven on electric only mode it can obtain a range of 31 miles though that is set to improve according to Hyundai.