Hyundai Ioniq (Electric & Hybrid) Owner Manual's
---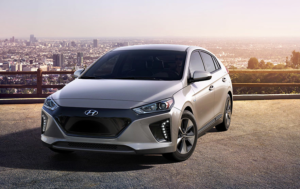 You can find 10 different owner's manuals for the Hyundai Ioniq (Electric & Hybrid) on this page that are in the PDF format.
The years available stretch from 2017 through to 2021 and to view the manual you just click the name to the left (or above if viewing by mobile).
About The Hyundai Ioniq (Electric & Hybrid)
The Hyundai Ioniq is a five-door sedan offered in 3 different types of environmentally friendly propulsion methods.
You are able to buy the Ioniq as either a full electric, plug-in hybrid or mixed fuel/hybrid combination of engines.
You can find the owner manuals for all 3 types of cars on this page for the corresponding year below.
The hybrid version alone is more fuel-efficient than the market-leading Toyota Prius and is powered by a 1.6 liter petrol engine mated to a 6-speed dual-clutch transmission.
The full-electric version has a range of 200 kilometers which surpassed the manufacturer's own target of 180 kilometers. The car can fully recharge overnight using a normal domestic household electricity supply. When compared to a normal fuel-driven car the expected efficiency expected is quoted as being the same as achieving 122 miles per gallon of fuel.
The plug-in hybrid version of the Ioniq is quoted as being able to achieve an amazing 125 miles to the gallon equivalent when given a full charge.
When the plug-in hybrid version is driven on the electricity-only mode it can obtain a range of 31 miles though that is set to improve according to Hyundai.
Hyundai Ioniq (Electric & Hybrid) Oil Type
Inside the owner's manual you can find a reference to the oil type needed and the fill capacity. To make things easier we have a sister-site that lists the different trims of the Hyundai Ioniq (Electric & Hybrid) and the appropriate oil you need at OilType.co.
FAQ's
Q: Can you jump-start a Hyundai Ioniq?
A: You can jump-start many hybrid cars the same way that you would jump-start a traditional non-hybrid car. You need to put another car bonnet-to-bonnet with the target car and then connect up the batteries using the same polarities with the engine running on the donor car. Leave the donor car to charge the battery of the target Ioniq for a few minutes then try starting it with both cars connected to each other.
---
Q: Where is the Hyundai Ioniq manufactured?
A: All Hyundai Ioniq manufactured so far (as of 2021) have been assembled in South-Korea and Malaysia.