2018 Kia Optima Owner's Manual
---
You can view the 2018 Kia Optima Owner's Manual further down the page underneath the image of the cover.
Clicking on the "view full screen" button will take you to a full screen version of the manual.
Manual Cover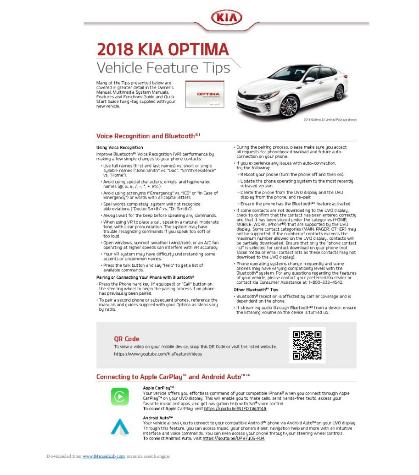 Other Manuals For 2018 Optima (K5)
2018 Optima (K5)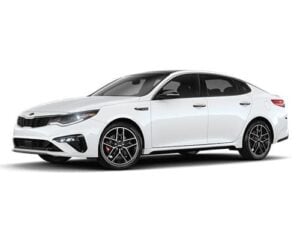 The 2018 Kia Optima is an excellent family sedan. It features an elegant design, a luxurious interior and a whole host of options to suit your needs. You might even think that the 2018 model is your best option if you're looking for a family sedan. But this is where you would be wrong. Whilst the Optima is a great car, it's situated in a highly competitive market and it simply fails to stand out or keep up with competitors like the Honda Accord and Toyota Camry. Overall, it's a great car, but not good enough for the market it's in.
The 2018 model updates the 2017 Kia Optima in a few ways. The infotainment system has been updated, and the SXL trim has now been discontinued. In its place stands the new S model. Beyond this, this 2018 version is virtually the same as the 2017 model.
Under the hood, the 2018 Optima has a vast range of engines to choose from. The best one has to be the 1.6-liter four-cylinder engine, producing 178 horsepower thanks to a turbocharger. This is a great engine for all tasks- it's refined for city driving, but powerful on the motorway. There are also more economical options available, such as a plug-in hybrid.
The overall ride of this 2018 model is very good. The suspension is firm enough as not to compromise performance but soft enough to ensure a comfy ride. And the steering is sharp and makes the Optima feel agile. However, the Optima simply doesn't handle as well as competitors, who will offer a comfier and more refined ride for the same price.
The interior of the Optima looks great and it's also well equipped. For instance, a 7-inch touchscreen infotainment centre comes as standard, and this is sharp and easy to use.