2020 Kia Optima (incl. Hybrid) Owner's Manual
---
You can view the 2020 Kia Optima (incl. Hybrid) Owner's Manual further down the page underneath the image of the cover.
Clicking on the "view full screen" button will take you to a full screen version of the manual.
2020 Optima (K5)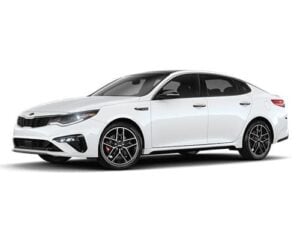 2020 Kia Optima's are some of the first examples of the fifth-generation of the mid-size car that has been in production since the year 2000.
During this year many hybrid cars such as this one saw their sales dip as the fully-electric Model Y from Tesla was released and took the market by storm.
Alongside the stylish new appearance is a host of advanced technologies to help keep the occupants safe.
Understanding these driver-aids will ensure that you as the driver will work with them rather than against them.
Inside the 2020 Optima manual embedded on this page, you can find detailed instructions and diagrams showing you how these systems work.
Not only does the manual feature guides on these safety features but also talks in-depth about comfort features such as infotainment and air-conditioning.
Browsing through the document you will find maintenance and servicing chapters that help you keep your Kia safe and reliable while retaining its value.
It is available as a PDF which is easy to view on your browser, download to your device and then even print off a physical copy.