Kia Stinger Owner's Manual
---
You can find 6 different owner's manuals for the Kia Stinger on this page that are in the PDF format.
Yearly Stinger Owner's Manuals
The years available stretch from 2018 through to 2023 and to view the manual you just click the name underneath.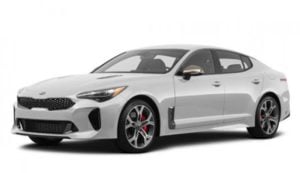 About The Stinger
Production of the Kia Stinger started in 2017 with customers getting delivery of their models in 2018.
It's a midsize car available in a 5-door liftback layout and a choice of rear or all-wheel-drive.
In these owner's manuals, Kia covers all the information necessary to keep your car in great shape so that it can perform at its best every day.
The Stinger competes with other rear-wheel-drive midsize cars on the market such as the Mercedes Benz C-Class and BMW 3-Series.
This car is built on the same platform as the Hyundai Genesis sharing the same front-engine rear-wheel-drive drive-train.
Styling on the outside was partially inspired by a Coca-Cola bottle and the aim of the car is not to be the fastest but to be fast and comfortable.
The 0-60 stats for the Stinger are impressive with the more sensible engine option taking the car to 60 in 7 and a half seconds and the performance trim with 4WD in 4.9 seconds.
There is a wide range of trims that you can choose when buying the car such as:
GT
GT-Line
GT1
GT2
GTS
Premium
In 2019 the model received an update bringing more features internally such as heated rear seats and a Surround-View monitor system.
Styling was updated in 2020 to bring the model in line with the rest of the Kia range and inside a new touch-screen infotainment system was installed.
Safety ratings for Kia Stinger are 5 out of 5 stars on average with pedestrian safety being the biggest fallback for the car.
Discontinued
2023 was the final year for the Stinger model from South Korean automaker Kia.
To celebrate the life of the sporty car the company released a special matte grey trim they called the "Tribute" that was priced at $55,000~ and featured a turbocharged V6 engine.