2020 Kia Stinger Owner Manual
---
You can view the 2020 Kia Stinger Owner Manual further down the page underneath the image of the cover.
Clicking on the "view full screen" button will take you to a full screen version of the manual.
2020 Stinger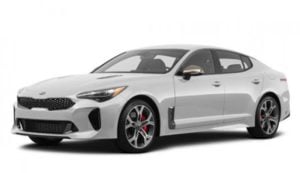 Built on the same platform as the Hyundai Genesis, the 2020 Kia Stinger is a mid-size car that is present in the liftback style.
It has the option of 3 different gasoline engines and 1 turbodiesel alternative, all mated to an 8-speed automatic transmission.
0-60mph is quick for the car and the manufacturer's claims of what is possible are considered to be less than what it can achieve according to a motoring publication.
When Car and Driver tested the car with high-quality tires they managed to beat Kia's claims of a 4.9 second 0-60mph by 0.3 seconds.
2020 saw the introduction of a touchscreen infotainment center and a revision of the front-end, bringing new headlights and grille.
A 2.5-liter engine and a variable exhaust of the performance 3.3-liter V6 version were added too, increasing power by 3hp.
For a rundown of the new infotainment system and its features check out the dedicated chapter inside the owner's manual on this page.
It covers everything to do with the 2020 Kia Stinger, from safety all the way through to maintenance and servicing.