Nissan Kicks Owner's Manual
---
You can find 6 different owner's manuals for the Nissan Kicks on this page that are in the PDF format.
Yearly Kicks Owner's Manuals
The years available stretch from 2018 through to 2023 and to view the manual you just click the name underneath.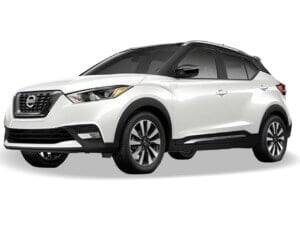 About The Kicks
Since it came on sale in 2016 the Nissan Kicks has quickly taken sales from other subcompact crossover SUVs in the USA as well as some emerging markets (Brazil, Mexico and Taiwan mostly).
The owner's manual contains information about all of the different features on your new vehicle and how to maintain it.
It also includes some handy hints that will make owning this car even more enjoyable.
You can find the manual for your version of the car on this page, separated by model year.
The Kicks has replaced the Juke in many markets such as the USA and the Indian version is built on the same platform as the Dacia Duster and Renault Captur.
Elsewhere in the world, the standard version is built on the same platform that is shared with the Micra and Versa Sedan.
The car is full of technology such as a touchscreen display in the dashboard for entertainment and a rearview camera plus built-in Bluetooth hands-free for mobile devices.
For most markets, you have the choice of 1 1.5 or 1.6-liter gasoline engine mated to a 5-speed manual or CVT transmission. For the Indian market, you can opt for a 6-speed manual or a CVT.
The Kick e-Power edition features an electric motor that powers the front wheels while a 1.2-liter gasoline engine powers the rear.
This e-Power version is currently only available in the Thai region, perhaps as a test before Nissan rolls it out for the rest of the world.
Aside from the electric version of the car customers could choose to have their model in 1 of 3 trims, S, SR or SV.
Sales of the Kicks model have climbed every year since its introduction in the USA alone, add to that the additional countries that the car is being released on and growth is currently exponential.