Mercedes Benz A-Class Owner's Manual
---
You can find 12 different owner's manuals for the Mercedes Benz A-Class on this page that are in the PDF format.
Yearly A-Class Owner's Manuals
The years available stretch from 2012 through to 2023 and to view the manual you just click the name underneath.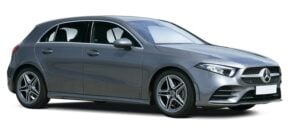 About The A-Class
Occupying the subcompact executive car segment of the market, the Mercedes Benz A-Class has been on sale since the mid-1990s.
It has competed recently with the Audi A3 and Acura ILX which all have premium features/comfort and a stylish appearance.
If you are new to driving in Europe or have never owned a European car before, it's important that you know how to use your car for all its features.
These owner's manuals will give you an overview of the controls used in the A-Class so that you can get behind the wheel and drive like a pro.
In 2005 the German automaker introduced the slightly larger B-Class which had a similar appearance to this car but was slightly larger and more powerful.
Before 2013 the car wasn't classed as an executive car but the company vastly improved its offering as it entered its third generation.
The third-generation is the most recent model still and is vastly different in appearance from the 2 generations before it.
Mercedes-Benz scrapped the tall pyramid style for the car and instead made it much lower and more aerodynamic.
Inside the car is a fleet of advanced driver-aids including a collision warning system and adaptive brake assist.
The level of features including safety-aids is limited to the trim level that you choose when ordering the car new, it can be one of the following:
AMG
AMG Line
Exclusive Edition
Exclusive Edition Plus
SE
Sport
Those looking for a more exciting version of the car can opt for the AMG trim which sports a 2-litre turbocharged engine mated to a 7-speed automatic gearbox and four-wheel-drive.