2020 Mercedes Benz B-Class Owner's Manual
---
You can view the 2020 Mercedes Benz B-Class owner's manual further down the page underneath the image of the cover.
Clicking on the "view full screen" button will take you to a full screen version of the manual.
Manual Cover
External Manual
Leave This Site & View External Manual »
2020 B-Class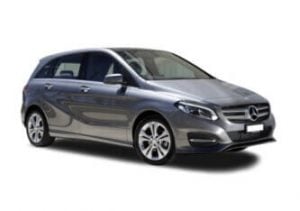 Much like the A-Class, the Mercedes Benz B-Class is similar in shape though slightly larger than the original subcompact crossover SUV.
Engine choices on offer are slightly larger to make up for the increased weight and to maintain its more "grown-up" image.
This 2020 model B-Class is some of the first of the third-generation introduced in the previous model year.
The biggest new addition to the line is the autonomous driving technology that is proving more popular in today's fast-evolving world, first pioneered in production cars by Tesla.
For a rundown of how this new technology works you can read the official PDF manual put out by the German automaker.
A copy of the 2020 Mercedes Benz B-Class owner's manual is embedded on this page and is viewable by everyone on all devices.
Chapters include details on the safety equipment and finish off with tips and tutorials concerning maintenance and servicing.