Mercedes Benz GLK-Class Owner's Manual
---
You can find 8 different owner's manuals for the Mercedes Benz GLK-Class on this page that are in the PDF format.
Yearly GLK-Class Owner's Manuals
The years available stretch from 2008 through to 2015 and to view the manual you just click the name underneath.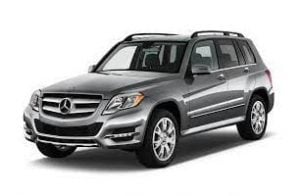 About The GLK-Class
A luxury compact crossover sports utility vehicle, the GLK-Class was first shown at the Beijing Motor Show ahead of its release date in 2008.
An initialism for 'Gelandewagen Luxus Kompaktklasse', the GLK-Class was based upon the concept cars 'Vision GLK Freeside' and the 'Vision GLK Townside.' The former was built as a light off-road vehicle with the latter designed solely for on-street use.
Built upon the platform 'W204' along with the Mercedes C-Class and the Smart Formore. Unfortunately, the Formore (another vehicle partly produced by Mercedes) was canceled mid-production before one single unit had been assembled. As tooling was being installed for the Formore, the decision was made to pull the line due to cost-cutting exercises performed at the plant.
Europe sold 'Edition one', a model that had a V6 engine, easy pack tailgate, privacy glass and 20-inch wheels with a sporty aesthetic. Mercedes built the Edition one as a left-hand drive only, meaning the exclusion of the Australian and United Kingdom markets.
A hybrid version was revealed as a concept car at the Geneva Motor Show several years after the initial release, and the 'Virion GLK Bluetec Hybrid' sported an Alubeam blue body color.
Following testing of the GLK-Class with the Insurance Institute for Highway Safety and Euro NCAP, the car was awarded 5 stars out of a possible five for safety along with an 89% score for adults, 76% for children and 47% for pedestrians.
Prior to the initial launch, Mercedes gifted the TV show Sex and the City with a model so that viewers had a chance to buy into the vehicle and a certain perception of the lifestyle associated with it. From this, potential customers could compare the GLK-Class to other quality German manufacturers' offerings such as the BMW X5 and the Audi Q5.
Looking at the sales figures over its lifetime, predominantly in the USA, figures for total units sold were strong, starting at a little under 22,000 upon initial release up until 35,000 the year before its discontinuation in 2014.
In 2016, Mercedes replaced the GLK-Class with the more modern-looking GLC300, a brand new model with a wide range of upgrades and features designed to appeal to a wider market.