Peugeot 5008 Owner's Manual
---
You can find 14 different owner's manuals for the Peugeot 5008 on this page that are in the PDF format.
Yearly 5008 Owner's Manuals
The years available stretch from 2011 through to 2024 and to view the manual you just click the name underneath.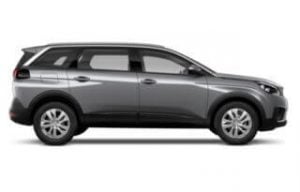 About The 5008
Production of the Peugeot 5008 began in 2009 as a replacement for the 807 people carrier (also known as the EuroVans).
The vehicle has been designed to be versatile, so it can do anything from carrying sports equipment to transporting construction materials.
In order to make the most out of your new 5008, you should read the owner's manual for your model year.
Originally the 5008 was released as a continuation of the 807 and looked very much like the last car but with more modern styling.
As consumer tastes have changed and buyers want a crossover vehicle rather than a people carrier the French car manufacturer decided this was the best way to go.
The 5008 line was adapted heavily in 2017 and the second generation model was a much more "SUV" looking car.
Underneath the second-generation Peugeot 5008 is the EMP2 platform that is shared with many other cars such as the 308 and the Citroen C6.
Sales of the car have continued to grow year-on-year, especially since the move into the classification of crossover SUV.
Inside the latest version of the car, occupants are treated to a touchscreen infotainment system and 3 rows of seating.
The level of comfort in this modern version does depend on the level of trim you choose, with the choice of one of eight including:
Active
Allure
GT
GT Line
GT Line Premium
GT Premium
Optionally the seating can be folded down to turn the 5008 into a car capable of carrying large objects, interestingly several vans share its platform too.
Engine choices are fairly restricted though to 2 petrol and 2 diesel variations, although gearbox choices are vast in both automatic and manual.