Peugeot 508 Owner's Manual
---
You can find 14 different owner's manuals for the Peugeot 508 on this page that are in the PDF format.
Yearly 508 Owner's Manuals
The years available stretch from 2010 through to 2023 and to view the manual you just click the name underneath.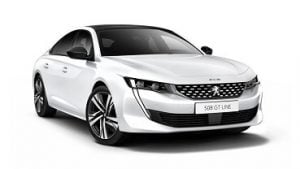 About The 508
In 2010 production of the Peugeot 508 began in multiple factories across the world.
The French automaker intended the 508 to replace the 407 as the new mid-size car (or large family car) offering.
It was also replacing the 607 executive car thanks to its own sleek design.
Underneath, it shares the same underpinnings as the Citroen C5 with both cars being manufactured at the same plants.
It also shares the PF3 platform with the Peugeot 407, another large family car built by the company.
When ordering your Peugeot 508 new you can choose between either a sedan/saloon or station wagon/estate body style.
You can also choose between a front-wheel-drive or four-wheel-drive layout too, with a hybrid drivetrain also on offer that puts the power to all four wheels.
Straight away the car was awarded 5 out of 5 stars for safety with Euro NCAP with occupancy safety relatively high.
This achievement was obviously a priority for Peugeot as the 508 was being marketed as a family car.
By 2018 a second-generation 508 was put into production with a new sporty liftback coupe body style added to the order sheet.
Engine options were simplified for the new model and amazingly the company managed to push the Euro NCAP rating either higher.
The car was moved over to the more generic PSA EMP2 platform shared by a larger group of companies that includes Toyota.
You can find the same platform underneath popular models such as the Opel Astra and the C4 Picasso.
Built into this platform is a new range of safety technology including automatic emergency braking and adaptive cruise control that both use radar in the front of the car to operate.