SEAT Toledo Owner's Manual
---
You can find 8 different owner's manuals for the SEAT Toledo on this page that are in the PDF format.
Yearly Toledo Owner's Manuals
The years available stretch from 2012 through to 2019 and to view the manual you just click the name underneath.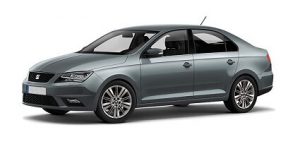 About The Toledo
When the SEAT Toledo was introduced in the early 1990s it replaced the Málaga model from the same Spanish automaker.
The Málaga was another small family car like this one that had only been in production for 6 years prior.
It had only run for such a short period of time because Volkswagen (who had recently taken over SEAT) wanted to get a model of their own in production.
Underneath this new Toledo was the same chassis that you could find under the MK2 Volkswagen Golf.
All models were 5-door with a liftback body style, sporting a tall boot line – a design that would stick with the Toledo until it switched to being a hatchback in 2004.
Thanks to the car being based on the already successful and well-engineered Golf it offered great value for money and saw sales of almost 150,000 in its second year.
In 1998 a second-generation model of the SEAT Toledo appeared with a smoother design of roughly the same shape.
Built on the same Golf platform, it now shared many of the same mechanics above the chassis with the Bora and the Skoda Octavia.
Volkswagen marketed this model as a sporty family car and now offered it with an optional turbocharged 1.8-liter 20-valve 5-cylinder engine.
A third-generation model entered production in 2004 with a completely different hatchback design with a much taller roof.
Underneath, the car was relatively the same setup as before and built again on the Golf platform with many of the same engines and options.
2012 saw the fourth and final generation of the Toledo and with it a return to the liftback sedan-like design that people knew it as before.
It was a longer car and mechanically shared more in common with the Skoda Rapid and the newer Volkswagen Jetta.
Sales figures for the car never returned to the highs that it had experienced in the 1990s and after 7 years the 4th-generation Toledo was discontinued.
When the car was taken out of production in 2019 it was replaced with the Leon as the company's flagship sporty family car.