Toyota Mirai Owner's Manual
---
You can find 8 different owner's manuals for the Toyota Mirai on this page that are in the PDF format.
Yearly Mirai Owner's Manuals
The years available stretch from 2016 through to 2023 and to view the manual you just click the name underneath.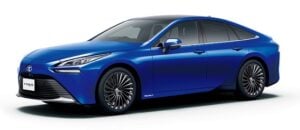 About The Mirai
In 2014 the production of the Toyota Mirai began and is only sold as a hydrogen fuel-cell-powered car.
The owner's manuals on this page will teach you everything there is to know about the car's features, operation, maintenance requirements, fuel economy estimates, and much more.
It sits in the mid-size car segment of the auto industry alongside such titans as the Camry and the Chevrolet Colorado.
What sets this apart is the fact that it runs from liquid hydrogen that is pumped into the car from a tanker or on a garage forecourt.
The major problem for the hydrogen-fuel-cell auto market right now is the lack of pumping stations, leading to many of these cars only being sold around certain spots in the world.
Adoption of this technology is high in areas that are very forward-thinking in the green industry such as San Francisco and Silicon Valley.
So far the Mirai has been through 2 generations of design with the second generation seeing an increase of over 30% in its range thanks to an increased capacity.
Underneath the car is the same platform used by many other similar-sized cars from Toyota including the RAV4 and Corolla.
In the United States, around 1,500 of these Toyota Mirais are sold each year and as the infrastructure sees more and more investment this could grow quickly.