2013 Toyota Corolla Owner's Manual
---
You can view the 2013 Toyota Corolla Owner's Manual further down the page underneath the image of the cover.
Clicking on the "view full screen" button will take you to a full screen version of the manual.
Manual Cover
2013 Corolla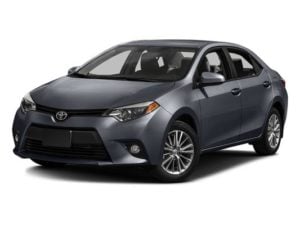 In 2013 the rest of the world outside of Japan got their hands on the new length generation Toyota Corolla.
Japan had already been able to get access to the new car for many months (starting in 2012) but now the massive auto market of North America could too.
Japanese models differ from the export versions of the car in terms of style, they are slightly smaller and have shorter bumpers at each end of the car.
This was to help improve sales due to the car taxing system that the Japanese government impose on its citizens that measure the length and width of the automobile.
This new Corolla was offered in a range of smaller displacement engines that had more emphasis on cutting fuel bills.
At the smaller end is a 1.3-liter and towards the top end of the 2013 range is the 1.8-liter - all of which run on gasoline.
All of the 2013 models of the Corolla are fitted with either a manual transmission or a CVT.
The larger 1.8-liter version of the car features a CVT but with a simulated 7-speed manual mode for a more sporty feel to the drive.
This 2013 model of the car is built on the Toyota B platform that is also used under the 2013 Prius and the 2013 Yaris.