2013 Honda Civic Sedan Owner's Manual
---
You can view the 2013 Honda Civic Sedan owner's manual further down the page underneath the image of the cover.
Clicking on the "view full screen" button will take you to a full screen version of the manual.
Manual Cover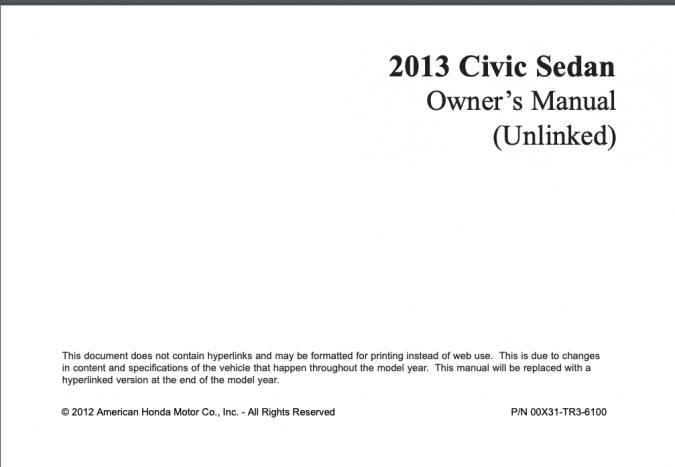 Other Manuals For 2013 Civic
2013 Civic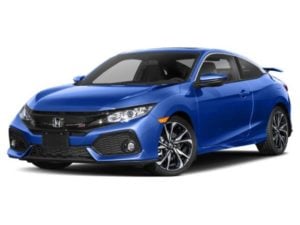 The 2013 Honda Civic is an early example of the ninth generation of design for the compact car.
All examples of the 2013 model are front-wheel drive with the engine in the front.
The CR-V (a crossover SUV based on the same chassis) for this model year received the update that this line had already seen two years before - winning scores for new fans in the process.
You can get this model in a sedan/coupe (3-door) or a hatchback (5-door) during this model year - this owner's manual is for the sedan version.
A Type-R performance variant of the Civic was not made available during 2013 and buyers had to wait for the mid-cycle facelift in 2015 for that.
Unfortunately, this model was not well-reviewed in the North American markets for this year.
Many critics slammed the poor-quality interior that was added to Civic Sedans that were manufactured in 2012 and delivered to customers in the following year.
Outside of the cabin, many reviewers noticed how the handling and the styling of the 2013 model were worse than before.
Along with the decrease in the visual appeal of the Honda Civic, this year also saw another, possibly related issue - an increase in wind noise for passengers.
In response to this Honda made changes to the design of the front-end, including a new grille design and a chrome bar on the boot lid.
They also improved the materials used in the construction of the car towards the latter part of 2013 to bolster sales going into the next year.