2013 Honda Accord Sedan Owner's Manual
---
You can view the 2013 Honda Accord Sedan owner's manual further down the page underneath the image of the cover.
Clicking on the "view full screen" button will take you to a full screen version of the manual.
Manual Cover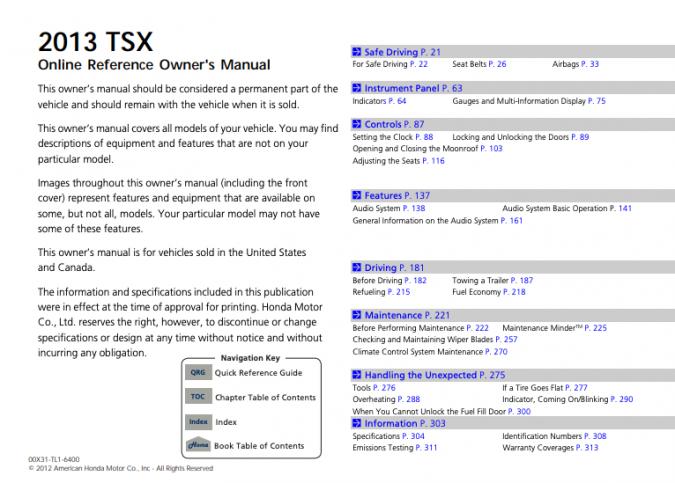 Other Manuals For 2013 Accord (incl. Acura TSX)
2013 Accord (incl. Acura TSX)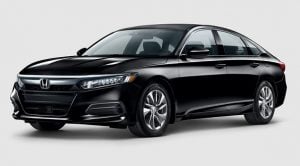 In the 2013 model year, the Honda Accord Sedan moved into its ninth generation of design.
Customers all over the world (including Japan and North America) got delivery of their new models during this model year at the same time.
This mid-size car saw a stylish overhaul of its cosmetic features as well as the technology under the hood.
A mild-hybrid and a plug-in hybrid version of this new Accord wasn't available until the next year of 2014.
Engines in the 2013 Accord ranged from the entry-level 2-liter gasoline and went up to a sporty 3.5-liter V6.
It shares many of these engines as well as the CVT, manual and automatic transmissions with its partner models such as the 2013 Odyssey.
Both the Accord and the Odyssey are built on the same platform and typically move into new versions together as their shared technology improves.
Instead of the MacPherson strut found in the 2012 Accord, you will now find double-wishbone suspension in the 2013 version.
This led to a much more comfortable ride as well as improved handling both on-road and during light off-road use.
The use of aluminum in the chassis also helped improve handling in this new model by bringing down the overall weight.
Two new trims were added to the order sheet for the 2013 Honda Accord - Sport and Touring.