2017 BMW X3 Owner's Manual
---
You can view the 2017 BMW X3 Owner's Manual further down the page underneath the image of the cover.
Clicking on the "view full screen" button will take you to a full screen version of the manual.
Manual Cover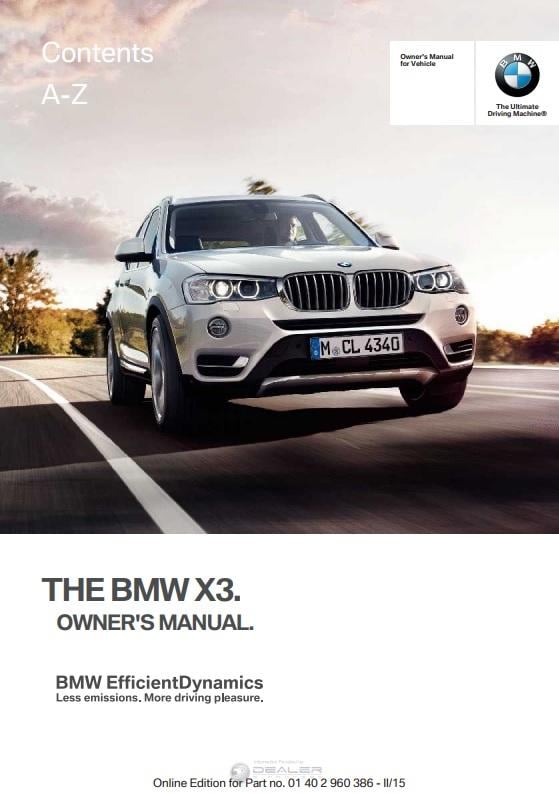 2017 X3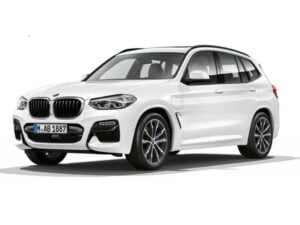 The 2017 BMW X3 is a luxury SUV that attempts to beat its biggest rivals, like the Audi Q5 and Jaguar F-Pace, by offering a more refined driving experience. The 2017 X3 features one of the best chassis of any luxury SUV on the market and has a great interior. Although, it does fall short with unimaginative styling and is one of the most expensive models on the market.
The 2017 makes a number of improvements to the 'second generation' 2016 BMW X3. For instance, the 2017 version is up to 55kg lighter and features a more aerodynamic design. These factors lead to better performance and an overall enhanced driving experience.
Under the hood, the 2017 X3 comes with several engine options. The best of these is probably the 3.0-liter six-cylinder engine, which produces 261 horsepower. This engine allows the X3 to accelerate from 0-60 in under 6 seconds, and reach 140 miles per hour, making it one of the fastest luxury SUVs on the market. The engine also feels smooth and refined and comfortable with any task.
The overall handling of the X3 is also sublime. The suspension is extremely comfortable, but doesn't compromise performance. And the handling keeps the X3 agile and athletic, and makes the car feel much smaller than it actually is. In terms of performance therefore, the 2017 BMW X3 is hard to beat.
The interior of the 2017 X3 is another great selling point. The quality of the cabin is simply unmatched, and BMW have used only the finest quality materials, like premium leather and soft plastics. There's plenty of legroom and cargo space too, making the X3 as practical as it is pretty. A good level of tech, like the touchscreen infotainment centre, will also keep you entertained.