2018 Audi A4 Owner's Manual
---
You can view the 2018 Audi A4 Owner's Manual further down the page underneath the image of the cover.
Clicking on the "view full screen" button will take you to a full screen version of the manual.
2018 A4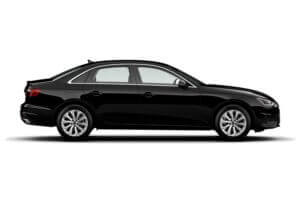 The 2018 Audi A4 is a luxury sedan that is one of the most well-rounded cars in the market today. It features excellent performance, with a good engine and nice handling, a great interior, featuring good technology and a big boot space, and a stylish design. The only drawback to the 2018 A4 is that it feels a little clinical and boring to drive. But other than this, the new model beats its rivals, like BMW 5-series and the Lexus GS in pretty much every way.
The 2018 model makes several small changes to the 2017 Audi A4. For instance, base premium trims now have heated seats and other trims benefit from blind-spot monitoring and rear cross-traffic alert. The most premium trims now feature adaptive cruise control and automatic headlights. Ultimately, the 2018 model makes the A4 an even more equipped car. Other than this though, the 2018 model doesn't make any big changes.
Under the hood, the 2018 A4 comes equipped with a 2.0-liter incline four-cylinder, which produces 252 horsepower thanks to the help of a turbocharger. This engine is simply brilliant. Not only does it offer excellent performance, but the engine is also very refined. No engine noise can be heard from the cabin, and the engine runs smoothly without vibration. It really sells the luxury feeling.
As for the overall ride, the 2018 Audi A4 is simply excellent. The suspension is soft, to negate every bump on the road, but not so soft as to compromise performance. And the handling is very sharp and precise, making the A4 nimble and agile. The biggest problem with the A4's performance is that it feels a little clinical and boring. If you want something more exciting, you might want to consider the Alpha Romeo Giulia.