2018 Mitsubishi Outlander PHEV Owner's Manual
---
You can view the 2018 Mitsubishi Outlander PHEV Owner's Manual further down the page underneath the image of the cover.
Clicking on the "view full screen" button will take you to a full screen version of the manual.
Manual Cover

Other Manuals For 2018 Outlander
2018 Outlander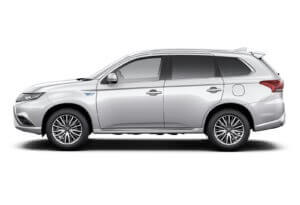 The 2018 Mitsubishi Outlander PHEV is the company's flagship SUV, offering an all-new hybrid range of cars to the market. The 2018 model excels in terms of its hybrid technology and offers some of the best electric range on the market. It's also stylish, spacious and well-equipped, which gives some explanation why Mitsubishi has sold over 100,000 models in Europe alone. Ultimately, the 2018 Outlander PHEV is one of the best hybrid SUVs on the market, beating the likes of the Kia Sorento and Toyota Highlander.
The 2018 model makes a big change to the 2017 Outlander PHEV. This change is the addition of a hybrid system on all models of the PHEV. The hybrid system basically upgrades the Outlander in every way, making the 2018 model a whole lot better than its predecessors.
Under the hood, the 2018  Outlander PHEV comes equipped with a 2.0-liter incline four-cylinder, which produces 117 horsepower. This is accompanied by two 80-horsepower motors, which can be found at the front and rear of the vehicle. The hybrid system is incredibly smooth, and offers amazing acceleration, especially for a car this big. The motors allow for regenerative braking, which is something normally found on sportier models. Overall, the Outlander's engine is fast, yet smooth and refined.
As for overall ride, the Outlander PHEV excels. The suspension is nice and soft, allowing the Outlander to soak up pretty much every bump on the road, leaving you with an incredibly comfortable ride. The steering is also excellent and makes the 2018 model feel much smaller than it actually is.
The interior of the 2018 Outlander is also very pleasant. There's plenty of space for passengers and cargo, and the cabin is made of high-quality materials. There's also some great tech, like a touchscreen infotainment system.