2019 Kia Forte Owner's Manual
---
You can view the 2019 Kia Forte Owner's Manual further down the page underneath the image of the cover.
Clicking on the "view full screen" button will take you to a full screen version of the manual.
2019 Forte/Cerato/K3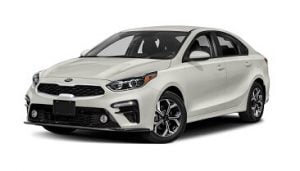 The Kia Forte was introduced by the South-Korean automaker in 2008 as a replacement for the Cerato and Spectra lines.
It's classed as a compact car with its engine in the front of the car powering the front wheels only.
Underneath, the car shares its platform with its partner company's Hyundai Avante/Elantra with a slightly different suspension setup and exterior appearance.
Currently, the Forte is in its third-generation with 2019 models being in the second year of this new version.
Using modern materials and technology the car is priced at the low-mid range of the market but still manages to offer a lot of the features of cars more expensive than itself.
All trim level 2019 Forte's are fitted with an infotainment system, automatic front lights, adjustable steering wheel and connectivity for Apple and Android devices.
Inside the owner's manual embedded on this page you can learn all about the comfort and safety features included in your Kia Forte.
It is in PDF format and easily viewable in your browser, downloaded to your device/computer or even printed off if you have the equipment for that.