2020 Hyundai Palisade Owner's Manual
---
You can view the 2020 Hyundai Palisade Owner's Manual further down the page underneath the image of the cover.
Clicking on the "view full screen" button will take you to a full screen version of the manual.
Manual Cover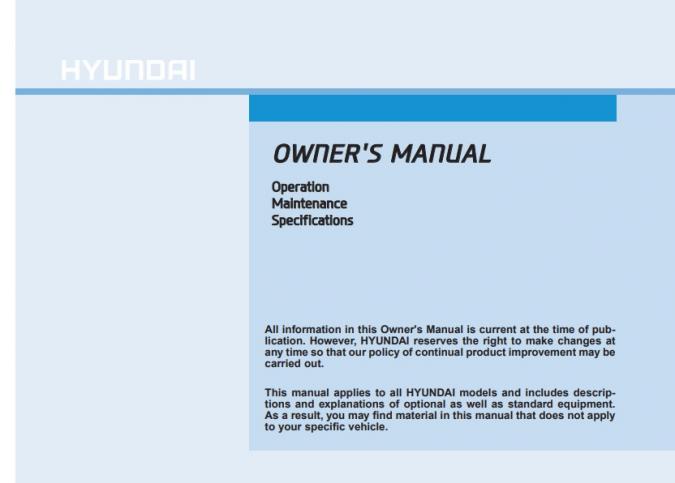 2020 Palisade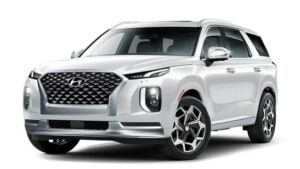 As a joint project with Kia the 2 South Korean automobile-manufacturers created a new cutting edge mid-size SUV.
The Hyundai Palisade was born and began production in 2018 with customers getting delivery in early 2020.
Kia called their version the Telluride and began production a year later - their version contained less engine options.
Both cars can be bought as either a front-wheel drive or a four wheel drive vehicle at time of purchase.
For Palisade's bought in the USA the buyer has a choice of 2 engines, a 3.8 litre turbo-diesel or a 3.5 litre gasoline V6.
2020 models like the one featured in the owner's manual on this page are an example of the first batch to roll off the production line.
They all have either 7 or 8 seats depending on the configuration and USB charging points in the rear.
This manual for the 2020 model opens up past the cover page and into legal information before hitting a contents page.
A "Your Vehicle at a Glance" section makes it easy to quickly diagnose the part of the car that is causing you issues from exploded diagrams of the inside and out.
Then a safety section run-through the important pre-driving checks you should be completing and educates you in how to use child seat restraints and seat-belts properly.