2020 Nissan Armada Owner's Manual
---
You can view the 2020 Nissan Armada owner's manual further down the page underneath the image of the cover.
Clicking on the "view full screen" button will take you to a full screen version of the manual.
Manual Cover
2020 Armada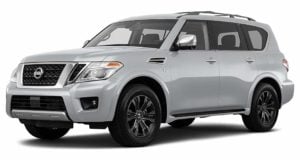 Production of the Nissan Armada started in 2003 but customers didn't get delivery of their cars until the 2004 model year.
It's a full-size SUV that is built on the same platform as the Patrol, though originally the first-generation was built on the Titan chassis.
It has also been sold as the Infiniti QX80 under that luxury brand with many more premium features included as standard.
Sales continue to grow slowly for the Armada SUV line every year, it is said to be a low-volume high-profit model for the company.
This 2020 version is an example of the second-generation Patrol-based version with a 5.6-liter V8 engine mated to a 7-speed automatic transmission.
Customers are able to choose between their Armada being a two-wheel or four-wheel-drive vehicle at the time of purchase.
To find out about all of the features built into the 2020 version of the SUV you can check with the owner's manual.
A PDF version of the manual is available on this page to download, view or even to print out a physical copy off for later.