2021 Audi A6 Owner's Manual
---
You can view the 2021 Audi A6 owner's manual further down the page underneath the image of the cover.
Clicking on the "view full screen" button will take you to a full screen version of the manual.
2021 A6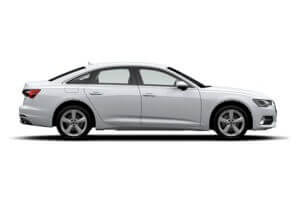 This 2021 Audi A6 is part of the sixth generation of design that came in just 3 years prior.
All of the 2021 models come with some sort of hybrid technology built into them, ranging from a simple mild system through to a full plug-in one.
You can buy the A6 as either a sedan/saloon or a station wagon/estate depending on use, much like the slightly smaller A4.
It is also available in the performance RS6 trim too complete with a twin-turbocharged V8 pushing power to all four wheels.
On the other end of the scale are the modest 2-liter turbodiesel engine and the 2-liter petrol model with a PHEV plug-in hybrid system built-in.
The plug-in hybrid version of the car can travel for over 30 miles on electricity alone before the gasoline engine has to kick in.
Within the owner's manual for this 2021 Audi A6 embedded on this site, you can find relevant information for all trims including the tough Allroad version too.
You can view, print or even download the PDF version of the manual to your device to access just when you need it.