2020 Audi A6 Owner's Manual
---
You can view the 2020 Audi A6 owner's manual further down the page underneath the image of the cover.
Clicking on the "view full screen" button will take you to a full screen version of the manual.
2020 A6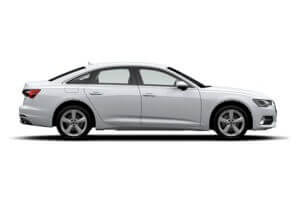 Despite not bringing huge changes from 2019, the year 2020 was an exciting model year for the Audi A6, which saw the arrival of a 2.0L 4-cylinder turbocharged model arrive alongside the main V6 turbo model.
On top of that, Audi increased the number of standard features in the 2020 A6 model, including heated side mirrors, automatic high beams, lane departure warning, and a new anti-theft system that could be good for insurance purposes!
In the 2020 year, Audi also gave the Premium Plus models --- that's the mid-level model --- the Virtual Cockpit system as a standard feature. Another addition for this model year was the improved Executive Package, which was expanded to include 4-zone climate control, ambient lighting, ventilated front seats, and heated rear seats.
The base-level Premium 45 models started at $55,895 when new, and the Premium Plus 45 at $59,595. At the top of the tree was the Prestige 55, which started at $70,695, but includes adaptive cruise control, traffic sign recognition, and lane-keeping assist as standard ADAS features.
The 2020 Audi A6 is thought of by many as an executive sedan with a lot of prestige and class, and indeed it is, but its powerful engines also made it quite sporty and dynamic. Between the turbocharged 2.0L inline-4 outputting 248-hp, and the 3.0L V6 outputting 335-hp, there was a lot of power to be had. There was even more when you factor in the mild-hybrid system.
It is indeed a speed machine launching from 0 to 60 in just 4.8 seconds, but the interior remains refined and elegant, as one would expect from the Audi brand. Soft-touch materials, gloss and metal finishes, flawless digital displays, commanding views from the comfortable leather seats; the 2020 A6 really had it all.
Underneath, the chassis is also used for the A7 which is very similar but sports a longer Sportback-style body.