2021 Mitsubishi Eclipse Cross Owner's Manual
---
You can view the 2021 Mitsubishi Eclipse Cross Owner's Manual further down the page underneath the image of the cover.
Clicking on the "view full screen" button will take you to a full screen version of the manual.
Manual Cover

2021 Eclipse Cross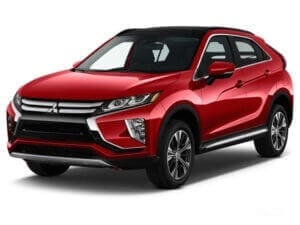 Sharing nothing with the original compact sports car the Eclipse, the Mitsubishi Eclipse Cross is actually a compact crossover SUV.
Underneath is none of the typical heavy off-road equipment you would expect under an SUV and so the fuel economy is much better.
Size-wise this model is roughly the same size as the Toyota RAV4 and sees fierce competition from that already established model.
Many carmakers have jumped on the crossover SUV market offering them in all shapes and sizes, including Mitsubishi's larger Outlander model.
This 2021 model is an example of the first-generation Eclipse Cross that was first launched in 2017 for the 2018 model year.
It is produced in China and Japan then exported all around the world including the USA and Europe, two important car-buying markets.
Inside the 2021 model is a huge amount of modern technology and driver-aids such as forward-collision-mitigation to help in the case of a potential accident.
Inside the owner's manual embedded on this page as a PDF you can learn about the features and driver-aids inside the 2021 Eclipse Cross.
The manual is definitely worth a read as Mitsubishi has managed to squeeze a lot into this SUV and you could easily miss something important.