2021 Toyota Camry Hybrid Owner's Manual
---
You can view the 2021 Toyota Camry Hybrid Owner's Manual further down the page underneath the image of the cover.
Clicking on the "view full screen" button will take you to a full screen version of the manual.
Manual Cover
2021 Camry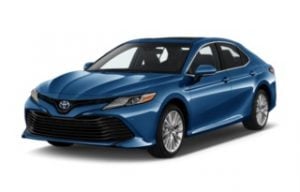 Selling in huge numbers, the Toyota Camry is a massive revenue stream for the Japanese automobile manufacturer.
This 2021 hybrid version of the car is an example of its eighth-generation and is able to capture more energy than before to recycle and keep fuel bills lower.
To fully understand this for drivers who have never driven a hybrid before (or maybe you have) you can resort to the official manual on this page.
It is in PDF format so you can view it online, download it for later or even print off a physical copy for later.
Inside are important visual guides on how to drive the 2021 Camry properly to save fuel and avoid damaging the drivetrain.
Maintenance of the batteries and motors can be a new concept for owners of these cars and so there are dedicated sections that explain this subject thoroughly inside.
For the non-hybrid version of this car, you should check out the other manual: the 2021 Toyota Camry owner's manual.