Mercedes Benz GLE-Class Owner's Manual
---
You can find 18 different owner's manuals for the Mercedes Benz GLE-Class on this page that are in the PDF format.
Yearly GLE-Class Owner's Manuals
The years available stretch from 2015 through to 2024 and to view the manual you just click the name underneath.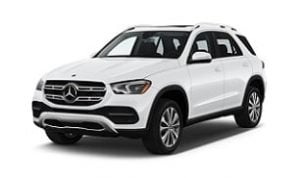 About The GLE-Class
Previously known as the Mercedes M-Class, the GLE was a mid-sized luxury sports utility vehicle that started production in 1997.
Built by the premium automaker Mercedes-Benz, the GLE sat neatly in between the GLC and the GLS in terms of size.
A few years after the vehicle's debut, Mercedes ran into a little trouble with BMW over the nameplate; BMW already had an existing line of 'M' vehicles (BMW M3 for example) and following official complaints and cajoling for Mercedes to change the name, the M-Class was rebadged as the GLE in 2015.
Replacing the G-Class which ran a successful 11 years, a joint venture with Mitsubishi, design concepts started as early as 1992 with a view to creating a body-on-frame flexible family vehicle.
Available with the ability to seat either 5 or 7 passengers, the customer could choose to add the optional third row of seating. Mercedes faced a lot of criticism for the additional two rear seats as they were not full size and proved extremely difficult for adults to get in and out of, limiting the feature to children only and thus restricting the vehicle's appeal.
Due to this issue, Mercedes decided to discontinue the 7-seater 7 years later in 2005.
Early models were built as a permanent 4Matic four-wheel drive and made history as the very first SUV to have electronic stability control. In addition to the ESC, GLEs had a good safety reputation with front driver and passenger airbags and side torso airbags.
Built in Vance, Alabama, USA, The GLE won several awards in its time. Motor Trend Magazine hailed it the 'truck of the year' in 1998, and whilst in an exhibition at the Northern American International Auto Show, it was voted 'North America's truck of the Year,' an impressive title considering the tough market it was in.
A second generation followed Mercedes's decision to drop the 7-seat variant, and in 2005 Mercedes registered the new design patent in Germany. This had a completely new, streamlined body with a better quality build and parts.