Chevrolet Impala Owner's Manual
---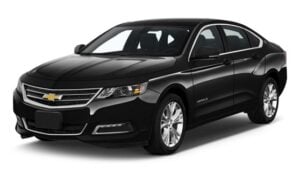 About The Impala
The Chevrolet Impala is a mid-sized sedan that became available to purchase back in 1957.
This car has been re-released through ten different generations of styling and platform upgrades, along with switching from a rear-wheel-drive car to a front-wheel-drive in the year 2000.
It's one of the best-selling models of car ever in the United States and has spawned many special editions including the SS.
The car is available with many standard and upgradable features, which can make it difficult to learn how to use the vehicle.
However, the owner's manual will provide all of the information that you need about your Impala.
On this page find the owner's manuals for each year and some basic maintenance procedures that every Impala driver should know.
Originally, the Impala was released in the 1950s as a premium model of sedan for customers looking for something a bit more special than the basic models sold by Chevrolet.
The car evolved through the years shaving off weight and adding new technological features such as cruise control and engines with improved performance.
Even the Beach Boys released a song about this car called 409 during the 1960s when the model was considered futuristic with its spaceship-inspired fins and aerodynamics.
Modern examples of the car can be customized through the choice of trim which on recent examples include:
Limited LS
Limited LT
Limited LTZ
LS
LS Eco
LT
LT Eco
LTZ
Premier
SS
Many police forces across America were ordering the Impala for squad cars thanks to their high-performance engines and reliable reputation.
Modern versions of this vehicle use the same platform as the Cadillac XTS luxury mid-size car.