2018 Chevrolet Impala Owner's Manual
---
You can view the 2018 Chevrolet Impala owner's manual further down the page underneath the image of the cover.
Clicking on the "view full screen" button will take you to a full screen version of the manual.
2018 Impala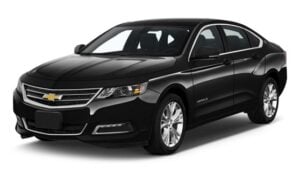 The Chevrolet Impala is a long running model of the American auto manufacturer, spanning 7 decades of production already.
The evolution of the car has seen it change from being a rear wheel drive car to a four wheel drive platform, as well as seeing many different engine sizes/configurations.
The 2018 model of the car is the tenth generation, with a much larger body and a shared platform with the Cadillac XTS.
All of the tenth generation Chevrolet Impala's have a 6 speed automatic gearbox with sport mode.
The owners manual opens up with a section concerning safety and common warning signs you may experience when driving the car along with what they mean.
Some of the more technical features are covered in the following chapters, such as how to operate the stop/start system and remote start of the engine.
The safety and comfort technology in the 2018 Chevrolet Impala is described next, so if you are struggling with these gadgets then this guide will help:
Infotainment system
Cruise control
Driver information center
Forward collision alert
Forward automatic braking
Lane departure warning
Lane change alert
Rear vision camera
Rear cross traffic alert
Some of the basic aspects of the car are illustrated in the following chapters - including the doors, mirrors, keys, starting the engine and mirror adjustments.