Dodge Challenger Owner's Manual
---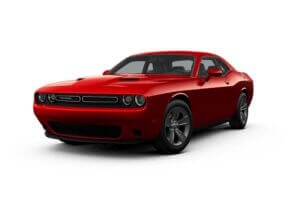 About The Challenger
The Challenger name was first used by Dodge as the budget level trim for the Coronet model in the late 1950's.
Over a decade later the Challenger became its own model classified as a pony car, similar to a watered-down muscle car for the masses.
For over 8 years the car was an impressive full-size pony car aimed at competing with others on the market such as the Ford Mustang and Chevrolet Camaro.
When the second-generation model was released in 1978 the American automaker made the decision of toning the car down and moving it in a different direction.
It was reimagined as a subcompact car that was actually a rebadged Mitsubishi Galant Lambda with much smaller engines than before.
The move to a smaller car with smaller engines was most likely an overreaction to the spiraling costs of fuel experienced by auto owners in the USA.
Challenger's ceased sale in 1983 but got revived in 2008 with a redesign that complemented the look of the original car in the 1970s.
Customers found the car to be a larger pony car again with performance-focused engines and cutting-edge technology under the hood and in the cabin.
A range of special editions was also introduced for this version adding four-wheel-drive and supercharged engine options.
Alongside the special editions are the standard trims that keep the car affordable to a variety of different budgets including:
GT
R/T
R/T Plus
R/T Scat Pack
Rallye Redline
Scat Pack
SE
SRT
SRT Demon
SRT Hellcat
SRT Hellcat Redeye
SRT8
SRT8 Core
SRT8 Yellow Jacket
SXT
SXT Plus
T/A
There are some things that every owner needs to know about their vehicle and these manuals are here to help.
They discuss all aspects of owning and maintaining a Dodge Challenger: from understanding what each dashboard light means to how often you should change your oil.
Sales of the modern revival of the Dodge Challenger have seen sales grow steadily over the years since it returned to what the badge did best, an American pony car.