Honda HR-V Owner's Manual
---
You can find 8 different owner's manuals for the Honda HR-V on this page that are in the PDF format.
Yearly HR-V Owner's Manuals
The years available stretch from 2016 through to 2023 and to view the manual you just click the name underneath.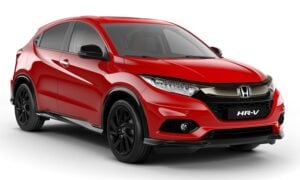 About The HR-V
The Honda HR-V became available to buy in 1998 when the auto-manufacturer released the car with a shared platform with the Logo model range.
The HR-V comes equipped with plenty of safety features that will keep you feeling safe on the road no matter what type of driving conditions you encounter.
Learning about those features is easy using the PDF versions of the manual that are linked to from this page.
Honda Logo's only lasted a few more years after the release of the HR-V and took over as its successor.
Original examples of the subcompact crossover SUVs featured permanent front-wheel drive with rear-wheel drive that kicked in when the front was losing traction.
This HR-V competes with other subcompact crossover cars such as the Chevrolet Trax and Toyota RAV4.
Another fairly new technology was the use of a CVT transmission which some drivers liked and others did not, luckily a 5-speed manual was also on offer.
With the release of the second generation HR-V from Honda the car was starting to be assembled all around the world in almost every continent.
The all-around appeal of the vehicle as a cheap to run yet practical SUV helped it sell in great numbers to all regions.
Helping sales is the choice of 5 different trim levels that help alter the car for various budgets, such as the:
Sales in emerging markets such as China and Brazil have helped the model become a big seller for Honda.
Safety scores for the Honda HR-V were always pretty good with the 2013 second-generation release seeing almost 5 out of 5 stars for all tests.
Modern versions of the SUV can be bought with a 6-speed automatic transmission, a CVT or even a hybrid drive-train to recover energy lost during braking.