Honda Pilot Owner's Manual
---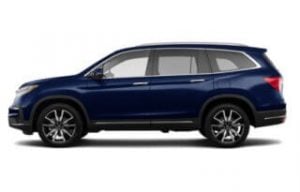 About The Pilot
Since 2002 the Honda Pilot has been built in Canada and the USA as an SUV, previously that name was used for an ATV by the Japanese company.
Your Pilot comes equipped with ABS brakes, dual front airbags, side curtain airbags and more.
Read through the owner's manuals listed on this page for some helpful tips on how to take care of your version so you can enjoy it for years to come.
The platform that the mid-size SUV is built on is shared with several other models in the Honda fleet such as the Odyssey and Acura MDX.
Underneath the Pilot boasts independent suspension and a strong frame to cope with off-road use and towing.
Although this is Honda's largest SUV it is still a lot smaller than the full-size SUV being offered in the USA such as the Cadillac Escalade and Chevrolet Tahoe.
Original 2003 year models of the Pilot were limited in engine and transmission choices, customers could only have a 3.5-liter V6 mated to a 5-speed automatic transmission.
The most recent generation of the car released in 2016 added a 9 speed automatic choice for buyers in a face-lift for delivery in 2021.
Newer Pilots also come complete with high-tech infotainment features such as a touch-screen console and an additional separate entertainment system for the rear as an option.
When you buy one of these new cars you get to choose a trim from the following list:
Black Edition
Elite
EX
EX-L
LX
SE
Special Edition
Touring
VP
Safety ratings for the SUV have always been pretty good with each generation of release seeing slightly higher star ratings achieved.
Sales on the whole for the Honda Pilot have increased over the generations with a slight dip during 2008 around the great recession that hit globally.
FAQ's
Q: How do I get a replacement Honda Pilot owners manual?
A: You can order a replacement manual for your Pilot through your local Ford dealership. Second-hand copies can be found on eBay and Amazon. For a digital copy you can find most of the Pilot owner's manuals on this page or by searching on the official manufacturer's website.
---
Q: Does the Honda Pilot come with manual transmission?
A: The most recent Pilot model (as of 2021) is only offered with a 9-speed automatic transmission, the 6-speed that was standard before has been replaced by this one. A manual transmission is not available and probably won't be brought back for the Pilot in the future.
---
Q: Is the Honda Pilot a reliable car?
A: Honda is known for making reliable cars and engines, many other manufacturers use their engines in their cars. This Pilot model is rated well above average among its class for reliability when owners of the car were surveyed.
---
Q: What problems do Honda Pilots have?
A: According to research done on owners of the Pilot, the most common complaint is related to transmission issues.
---
Q: Should I buy Honda Pilot or an Acura MDX?
A: The Pilot is better value for money but the Acura MDX includes more for the price and outperforms the budget version in terms of comfort and style.