Genesis GV80 Owner's Manual
---
You can find 3 different owner's manuals for the Genesis GV80 on this page that are in the PDF format.
Yearly Genesis GV80 Owner's Manuals
The years available stretch from 2021 through to 2023 and to view the manual you just click the name underneath.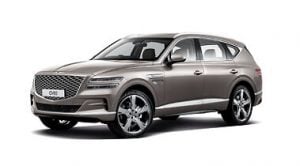 About The Genesis GV80
Production of the Genesis GV80 began in 2020 with customers getting theirs in the 2021 model year.
It is the first SUV offering from the recently created luxury wing of Hyundai that they have named Genesis after the model by the same name.
The GV80 is classed as a mid-size luxury crossover SUV and sits upon the same platform as the G80 that spawned Genesis.
All of the examples of the car are 5-door with the engine at the front powering the front or all four wheels.
In order to keep the weight of the car and the center of gravity low the car employs a lot of aluminum in its construction.
Buyers can opt for one of two gasoline engines or one turbodiesel version mated to an 8-speed automatic transmission.
That transmission can also be switched into a manual-shift mode that simulates the experience of driving a manual car.
Inside of the car is some of the best cutting-edge technology that you would expect in a luxury car.
You will find multiple screens feeding data to the driver and occupants for both the infotainment and the driver-aids.
The GV80 has a built-in GPS and safety features such as collision avoidance and reverse-steering assistance.