Jeep Wagoneer (incl. Grand) Owner's Manual
---
You can find 3 different owner's manuals for the Jeep Wagoneer (incl. Grand) on this page that are in the PDF format.
Yearly Wagoneer Owner's Manuals
The years available stretch from 2022 through to 2024 and to view the manual you just click the name underneath.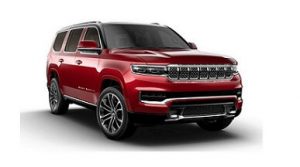 About The Wagoneer
You can trace the original Jeep Wagoneer nameplate back to the 1960s when it first appeared.
It was intended as a replacement for the Willys Jeep Station Wagon, a very utilitarian model that lacked the comfort features expected by Americans.
The car was like a mix between a station wagon and an offroad capable jeep.
During the 1980s a second-generation Wagoneer entered production which was essentially a rebadged Cherokee with only slight differences.
Then in the 1990s, the name appeared as a top-of-the-range trim for the Grand Cherokee for just 1 year.
This page is a hub for the newly introduced revival of the Wagoneer and Grand Wagoneer nameplate for 2022.
Dubbed the "WS" internally, the fourth-generation Wagoneer lines are full-size SUVs built on a chassis taken from the most recent Ram Pickup.
It is sold as the Wagoneer and as the Grand Wagoneer, the latter representing a more upscale version of the SUV (classed officially as a full-size luxury SUV).
The basic model is powered by a 5.7-liter V8 engine with mild-hybrid technologies and the Grand Wagoneer by a 6.4-liter HEMI V8.
Both are fitted with an 8-speed automatic transmission originally found in the 7-Series BMW.
You can opt for an optional rear-wheel-drive chassis in the Wagoneer but are restricted to a four-wheel-drive one only in the Grand version.
These models were introduced to take on the larger SUV market in the USA already dominated by the likes of the Cadillac Escalade and the Lincoln Navigator.