Mercedes Benz R-Class Owner's Manual
---
You can find 12 different owner's manuals for the Mercedes Benz R-Class on this page that are in the PDF format.
Yearly R-Class Owner's Manuals
The years available stretch from 2005 through to 2017 and to view the manual you just click the name underneath.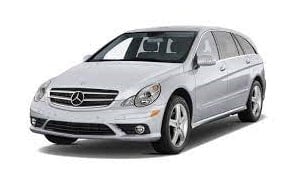 About The R-Class
Marketed as a large luxury multi-purpose vehicle, the R-Class was introduced in 2005 with the intention of sales starting in 2006.
Previous to the R-Class, Mercedes had seen great sales with their A and B Class models (both smaller vehicles) and so expected the same of the R-Class.
Concept versions of the R-Class were first shown fairly early at the Detroit Motor Show in 2002. Sharing the same platform with the M-Class and GL, there were two wheelbases available and a wide range of engine variants.
it was a flexible vehicle, the customer could choose to change to rear-wheel drive or to have between 5 and 7 seats installed.
2011 saw an update with standard changes made to the front, rear and grille, the result of which was shown at the New York International Auto Show. Overall safety was deemed 'good' by the Insurance Institute for Highway Safety, but the side impact crash testing let it down with only an 'acceptable' score.
Mercedes predicted sales of 50,000 with 25,000 expected to go to America, and initial sales were good. For the first couple of years, targets were hit, but by 2008 R-Class orders fell dramatically.
Reviewing the situation, numerous review sites and Mercedes-Benz themselves had a number of reasons as to why this might have been. One problem was that the R-Class didn't seem to fit into a specific 'type' and suffered a 'Jack of all trades' reputation.
The configuration of the car meant that it could easily be described as a number of things, a sports utility vehicle, crossover, station wagon or an estate. In addition to this, parallels drawn with the Chrysler Pacifica, an unpopular and unreliable vehicle, proved damning.
Evidently, the Pacifica was not successful and looked extremely similar to the R-Class, people couldn't help but draw comparisons. Finally, of course, there was the global economic downturn in 2008 which restricted new car sales, especially those made by premium automakers.