Mercedes Benz M-Class Owner's Manual
---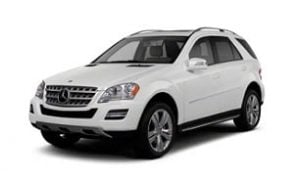 About The M-Class
The Mercedes-Benz M-Class was a mid-size SUV that has been in production since 1997. The model was later renamed to the GLE as of 2015. During its time on the market, there have been four generations.
These different versions have been given the designations W165, W164, W165, W166, and W167.
Mercedes-Benz updated its name for various reasons. The first is to alleviate some issues with the BMW M model range. It was also done in an attempt to streamline the SUV range, giving all of their SUV models a 'GL' naming convention.
It features the 5-door layout typical to the SUV class and has been outfitted with various luxury stylings found in other models like the Mercedes-Benz E-Class.
Drivetrains offered are either rear-wheel or four-wheel drive.
Competition for the GLE or M-Class comes from various other luxury SUVs. The most notable of these include the BMW X5, Range Rover Sport, Audi Q7, and Volkswagen Touareg.
Trim levels follow Mercedes-Benz's simple numbering format. These start with the base RWD 350 model, followed by 350, 450, and top-tier 580, all of which come with their 4MATIC and 4MATIC+ drive systems.
There have also been various high-performance versions powered by AMG technology.
Petrol engines have ranged from a turbocharged 2-liter inline-4 up to the bi-turbocharged 5.5-liter V8 engine found in the AMG models. Newer models are limited to a bi-turbo 4-liter V8 with mild hybrid technology.
Diesels have typically been significantly smaller, consisting of engines ranging from a turbocharged 2-liter inline-4 up to a 3-liter inline-6 version.
Mercedes-Benz introduced hybrid technology as far back as the second generation which was released in 2005.