Volkswagen Atlas Owner's Manual
---
You can find 6 different owner's manuals for the Volkswagen Atlas on this page that are in the PDF format.
Looking For Mechanical Information?
An owner's manual is usually packed with guides on how to operate the car safely and how to maintain it.
If you require mechanical information (for fixing the car yourself for example) then you may need a workshop, service or repair manual instead.
Volkswagen Atlas Service Manuals »

Yearly Atlas Owner's Manuals
The years available stretch from 2018 through to 2023 and to view the manual you just click the name underneath.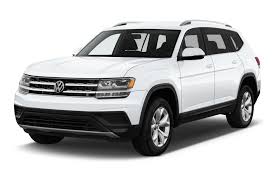 About The Atlas
Production began in 2017 of the Volkswagen Atlas in the USA and China with the non-American versions badged as the "Teramont".
It's built on the same platform as the Golf, Passat and Audi A3 though it's altered greatly depending on use.
Inside the Atlas, you will find a space-age interior with a fully digital cockpit and connectivity to Android and Apple mobile devices.
These owner's manuals will show you how to use the features of the car, and also help you maintain your vehicle so it continues to run smoothly for years after purchase.
Boasting a large amount of cargo space thanks to its tall orientation the length of the vehicle is also taken advantage of with 3 rows of seating.
Engine choices vary with customers having the option of gasoline engines or diesel engines (non-USA only) ranging from 2-litre to 3.6-litre in displacement.
Automatic transmissions are included as standard with a 7-speed semi-automatic choice available to buyers.
Sales have increased steadily year by year around the world and a refresh of the styling done in 2020 should help continue that upward trend.