2012 Ford Fusion Owner's Manual
---
You can view the 2012 Ford Fusion Owner's Manual further down the page underneath the image of the cover.
Clicking on the "view full screen" button will take you to a full screen version of the manual.
Manual Cover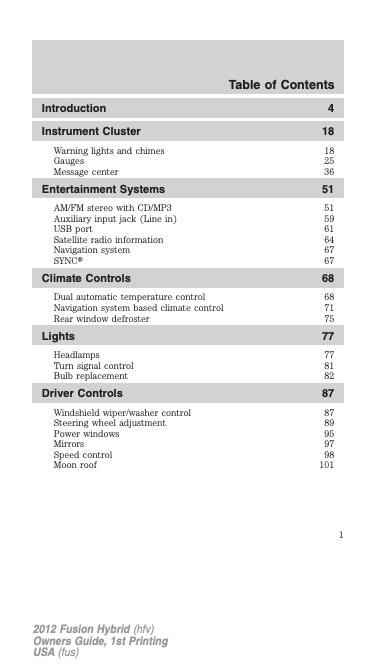 Other Manuals For 2012 Fusion
2012 Fusion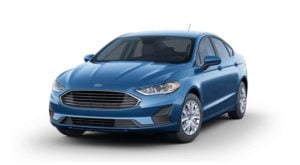 The hugely popular Ford Fusion is a family sized 4 door sedan that is sold in the North of America.
A Ford Fusion model also exists in Europe, although its a small hatchback and not the same car.
This owner manual starts off by briefly talking about the safety features of the car and then moves onto the "breaking in" process you must undertake with it for the first 1,000 miles.
The warranty is discussed in more detail next, along with special rules for particular parts of the USA such as California.
First up is the explanation of the instrument clusters found in the dashboard of the 2012 Ford Fusion, along with a guide on how to use the entertainment system.
Some models are equipped with a GPS which can also pose problems to some users of the car, common problems such as connecting to a satellite is mentioned.
The next section goes into detail explaining how to use the air condition and climate control technology built into the Ford Fusion, which included dual zone if installed.
In the following sections you can find instructions on operating the lights, inside and outside the car and how to use the electric mirrors and other gadgets attached to the car.
Alarms and security are next, some models are fitted with garage door openers and key-less entry.
The seating and safety belts are documented in vast detail in the following section for the 2012 Ford Fusion, this car is fitted with a lot of airbags and they are shown in a diagram too.
The mechanical elements of the car fill the later part of the manual, such as the tires, brakes and steering.
The hybrid version of the Ford Fusion 2012 owner's manual can be found here.