2018 Mitsubishi Mirage Owner's Manual
---
You can view the 2018 Mitsubishi Mirage Owner's Manual further down the page underneath the image of the cover.
Clicking on the "view full screen" button will take you to a full screen version of the manual.
Manual Cover

2018 Mirage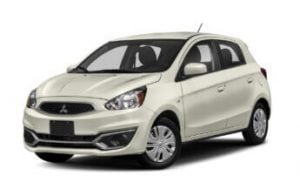 Production of the Mitsubishi Mirage began in the late 1970s when the Japanese automaker wanted to get into the subcompact segment of the auto market.
It started out life as a small hatchback produced in Japan, Australia and New Zealand then exported all over the world.
You could find it on sale under many different names including the Colt, Lancer, Champ and the Magnum at varying times among its life.
In the mid-1990s it was revised and grew in size to now become a compact car instead, many Japanese car manufacturers were switching around their range at the same time.
The Honda Civic had also recently been changed from a subcompact to a compact car due to the inclusion of new technology and features.
At this time the Mirage was also rebadged as the Lancer in many regions with the Lancer Evolution on sale based on this car also.
In 2016 the Mirage was returned to being its own line again and returned to its roots of being a subcompact car once again.
This 2018 model of the car is an example of this switch and these models are also known as the Space Star and Attrage with it being called the Dodge Attitude in Mexico.
For all of the different versions of the 2018 Mitsubishi Mirage, you can find the official owner's manual on this page.
It is a PDF document and is easily browsed through, printed out for a physical copy or even saved to your device just in case you have bad reception when stranded.