2019 Mitsubishi Outlander PHEV Owner's Manual
---
You can view the 2019 Mitsubishi Outlander PHEV Owner's Manual further down the page underneath the image of the cover.
Clicking on the "view full screen" button will take you to a full screen version of the manual.
Manual Cover

Other Manuals For 2019 Outlander
2019 Outlander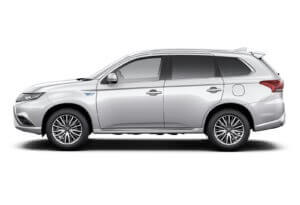 The Mitsubishi Outlander model goes way back to 2001 when it was first introduced by the Japanese automaker.
Originally it was called the Airtrek and acted as the company's first adventure into the world of compact crossover SUVs.
This was a fairly new segment of the auto market that is still continuing to grow even to this day, started by the Toyota RAV4 and Honda CR-V in the mid-1990s.
The Outlander was built using the Lancer as a platform that had already shown that it was capable of light offroad work in the World Rally Championship.
It had much emphasis put on it that it had to be offroad capable, much like the cars that had inspired it.
Over the years since its introduction, Mitsubishi has put less focus on the car being offroad capable and instead tried to reduce the weight.
This reduction of weight is a higher priority for many car buyers who crave vehicles that are easier to drive, require less maintenance and so are less expensive to run.
The 2019 model year saw a huge update for the plug-in hybrid (PHEV) version of the Mitsubishi Outlander with the front-end seeing many changes.
A  new set of 18-inch alloys were also added to the car to compliment the external aesthetics with a grille that features black inserts.
This PHEV version of the car was now on sale in over 50 countries in 2019 and also achieved the title of "best-selling plugin-hybrid car in the UK".
In 2019 the plug-in hybrid system inside the car was also upgraded to now be able to achieve a range of 65km or 40 miles in electric-only mode on a full charge.
To understand how to correctly operate the PHEV version of the Mitsubishi Outlander you can consult the official manual.
A copy of the 2019 Mitsubishi Outlander PHEV owner's manual is embedded on this page for everyone to access.
You can easily download and print the PDF to keep in the car for future use too.