2019 Nissan Kicks Owner's Manual
---
You can view the 2019 Nissan Kicks owner's manual further down the page underneath the image of the cover.
Clicking on the "view full screen" button will take you to a full screen version of the manual.
Manual Cover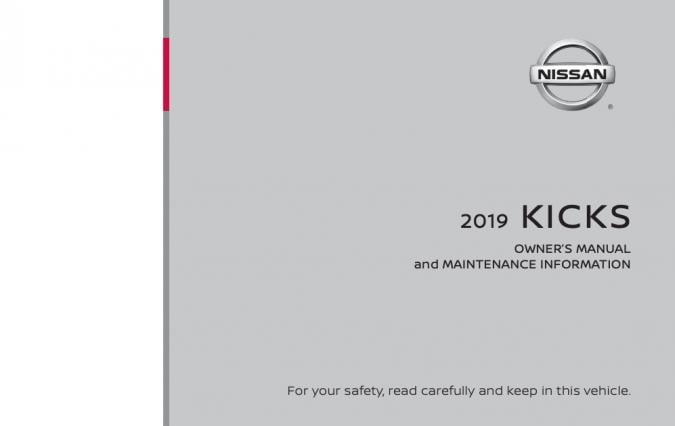 2019 Kicks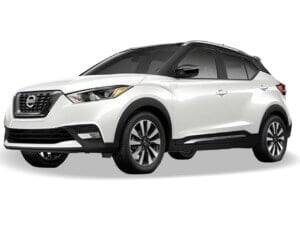 Nissan's line of SUVs have performed very well in the US markets, especially the Rogue, and the Kicks. The 2019 Nissan Kicks came either as the S, SV, or top-end SR models, and was largely a continuation of the newly launched 2018 model from the previous year.
Under the hood, you'll find a 1.6L 4-cylinder engine offering up to 125-hp which doesn't deliver a huge amount of "kick" as the name suggests, but with enough push on the pedal, you can get quite a fun and dynamic drive, especially when driving in the city.
Though it's an SUV, it's tuned more for the comfort settings so that's why it feels more at home cruising around city streets than it would twist around a more difficult mountain road. It handles rougher pavement well, however, keeping the vibrations and noise out of the cabin.
The 2019 Nissan Kicks competes well with the likes of the Toyota C-HR in terms of fuel economy, getting up to 37-mpg at its best when tested in real conditions. It also shares an equally simple but tasteful interior, but some might be disappointed that the interior doesn't match the fun, edgy styling of the outside.
Something people really do love about the Kicks and other Nissan cars is the infotainment system, Nissan Connect. It's intuitive and easy to learn how to use, with the only drawback being that the icons can be fiddly to get when you're driving. That system is shown on a 7-inch screen as standard paired with a standard 6-speaker audio system, and Bluetooth. Premium audio options are available.
One more generous aspect of this small car is its impressive cargo space. Even with the rear seats up, you get a pleasing 25.3 cubic feet of space, which goes up to 32.3 cubic feet with the seats down.