Mercedes Benz CLK-Class Owner's Manual
---
You can find 14 different owner's manuals for the Mercedes Benz CLK-Class on this page that are in the PDF format.
Yearly CLK-Class Owner's Manuals
The years available stretch from 1997 through to 2010 and to view the manual you just click the name underneath.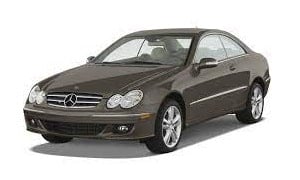 About The CLK-Class
Created as a coupe and a convertible, the CLK-class was a series of mid-size luxury vehicles built by the German car manufacturer Mercedes-Benz.
Manufactured From 1997 to 2010, the CLK was derived from the E-Class and shared the mechanics and underpinnings of its sister vehicle the C-Class.
Sitting between the SLK and the CL, the CLK competed directly with other premium vehicles produced by other German Powerhouses; namely the BMW 3 Series, BMW 6 Series and the Audi A4 cabriolet.
The latest version (2003 – 2010, and codenamed C209 / A209) had a range of variants and could be purchased as both a soft and hard top in petrol or diesel and with a 2.6-liter V6, 3.2-liter V6, 5-liter V8 petrol and a 2.7-liter inline-5 diesel engine.
At the end of its run, the CLK-Class was replaced by the more modern C207 E-Class coupe and the A207 E-Class convertible.
At the start of its life, the first generation ran for 6 years from 1997 to 2003 and filled a discovered gap in the market. Two versions were available, a 4 calendar CLK 200 and a 4 cylinder supercharged CLK 230 Kompressor.
After just three short years, Mercedes-Benz reviewed the design and brought forward the 2000 update. This new model featured a new instrument panel, a steering wheel with various control buttons added, revised bumpers and restyled side skirts. Here, customers could add a sports package for the Northern American market only, or an AMG upgrade on the newly issued Cabriolet (2002).