Nissan Versa Sedan Owner's Manual
---
You can find 9 different owner's manuals for the Nissan Versa Sedan on this page that are in the PDF format.
Yearly Versa Sedan Owner's Manuals
The years available stretch from 2013 through to 2021 and to view the manual you just click the name underneath.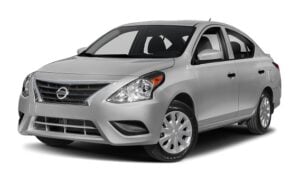 About The Versa Sedan
The Nissan Versa Sedan is also known around the world as the Nissan Latio or even the Almera for a short period.
To add even further confusion Nissan labeled a completely different subcompact car as the Versa between 2006 and 2012, the Tilda.
This page is full of various owner's manuals that contain all of the features that are included in your new car.
You can find detailed information about things like how to use your seat belt, how to adjust your mirrors and more.
The Nissan Versa is available in a smaller hatchback-style layout called simply the Note.
Underneath the car, you will find a platform that is shared with the Micra, Tida/Pulsar and the Kicks model.
The owner manual's on this page for the models sold in North America (and maybe some other territories) from 2012 onward.
Engine choices for this car are on the smaller sized and economical end of the scale from 1 1.2 litre gasoline through to a 1.5 litre turbo diesel.
Transmission options for the Versa Sedan are pretty low-tech with a 4 speed automatic or a 5-speed manual available. A CVT was added to the range for American customers.
The car may be small but is equipped with some modern technology like a touch screen display in the dashboard, sat-nav and Bluetooth connectivity for mobile devices.
NCAP awarded the car 4 out of 5 stars for safety and the car is equipped with 6 airbags to deploy in collisions.