Nissan Micra Owner's Manual
---
You can find 14 different owner's manuals for the Nissan Micra on this page that are in the PDF format.
Yearly Micra Owner's Manuals
The years available stretch from 2010 through to 2023 and to view the manual you just click the name underneath.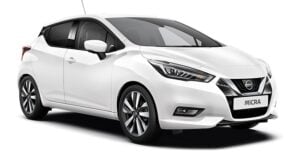 About The Micra
Since the early 1980s, the Micra has served as Nissan's supermini classed car and has proved popular all around the world.
It has historically competed against the likes of other Japanese superminis such as the Toyota Yaris and Suzuki Swift.
These owner's manuals cover everything from starting the engine to understanding the dashboard display.
There are also some important safety tips that will help keep both you and your passengers safe on the road.
These supermini cars are especially small and lightweight with low-powered engines typically around the 1-liter in displacement mark.
When first introduced the Micra was designed to replace the Cherry model that was sold in Japan, an important market for very small cars like these.
Since the introduction of the car in the early 1980s, the model has gone on to evolve through five generations, the most recent being released in 2016.
Underneath this fifth-generation, Micra is the same platform used underneath the Renault Clio with the same engine and transmission options.
It's considerably longer than its predecessors as well as wider and lower with more room inside the body.
Buyers can choose between a manual transmission or CVT for smooth gear changes that aren't even noticeable.
Alongside the transmission choice is the level of trim for the 2017+ model which could be one of the following:
Acenta
Acenta Limited Edition
Bose Personal Edition
N-Connecta
N-Sport
N-Tec(
Tekna
Visia
Visia+
The current Micra is only on sale in Europe and South Africa with the non-European model lacking many premium features to help it remain affordable.