2019 Toyota Camry Owner's Manual
---
You can view the 2019 Toyota Camry Owner's Manual further down the page underneath the image of the cover.
Clicking on the "view full screen" button will take you to a full screen version of the manual.
Manual Cover
Other Manuals For 2019 Camry
2019 Camry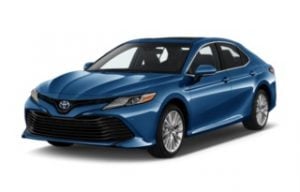 Introduced in the early 1980s, the Toyota Camry was designed to replace several other compact car lines.
Although this model started out as a compact it quickly became a mid-size car in the early-1990s and has remained as that classification since.
This 2019 model year Camry is an example of its eighth-generation that was brought in for the first time the year before.
A range of economical engines including hybrid drivetrain options help the car appeal to a broader market who may be watching their wallet.
Design-wise the car is very similar to the last but with slightly more aggressive cues including a lower ground clearance.
Underneath this 2019 Toyota Camry is the same platform used by the same model year RAV4, Avalon and Sienna.
Inside the car is a wide range of technologies (some unique to Toyota) which you can learn about from the owner's manual.
A copy of the official PDF version of that manual is embedded on this page and is viewable free of charge to everyone.
Towards the rear of the document you can learn about the maintenance and servicing of the Camry to keep the car safe and reliable.