Toyota Tundra Owner's Manual
---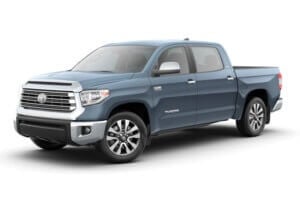 About The Tundra
The Toyota Tundra is a full-size pickup truck built and marketed for the North American market though was sold in other territories such as Canada by the Japanese car manufacturer.
These owner's manuals will provide you with instructions on how to operate this vehicle, as well as information on common maintenance procedures that need to be done periodically in order for the vehicle to run smoothly.
It competes with other full-size pickup trucks such as the Ford F-150 and the Dodge Ram in the USA and Canada.
The car has only gone through 2 generations of design since its initial production in 1999 with a TRD Pro sports version also being released for performance enthusiasts in 2015.
Originally the Tundra was available with a 3.4, 4 or 4.7-liter engine mated to a 5 or 6-speed manual OR 4 or 5 speed automatic.
The second-generation engine sizes were larger in volume and the choice of transmission was limited to a 5 or 6 speed automatic.
With the move into the 2nd generation in 2007 buyers were able to configure their Tundra layout by changing the cab size, bed length or wheelbase lengths.
The move to add a sports edition named the TRD Pro in 2015 was to rival the likes of the Ford SVT Raptor Ram 1500 Rebel.
This TRD Pro was slightly higher off the ground with much stronger shock absorbers, an aluminum skid plate to protect the engine and a sports exhaust.
Alongside these performance-based trims was a range of normal truck versions such as:
1794 Edition
Darrell Waltrip Edition
Limited
Platinum
SR
SR5
W/T
FAQ's
Q: What problems do Toyota Tundras have?
A: The most complained about issue experienced by Tundra owners is the failure of the air induction pump. Some owners have experienced failure at around 75,000 miles with repair bills being just over $3,000.
---
Q: Do Tundras come in manual?
A: Since 2007, the Toyota Tundra has only been offered with an automatic transmission.
---
Q: How long should a Toyota Tundra last?
A: As with most Toyota models, the Tundra is a well-engineered reliable automobile and can reach 300,000 miles if properly serviced and maintained.
---
Q: What is the S gear on a Toyota Tundra?
A: The S gear on your automatic transmission in the Tundra is the same as 4th, no matter what speed or power you are putting through the transmission it will hold 4th gear.
---
Q: Why do Toyota Tundras hold their value?
A: With the high demand for the vehicle from both commercial and domestic auto buyers the truck retains its value well. Also, Toyota is known for its great engineering and reliability adding further value-for-money to the Tundra.