2020 Audi A4 Owner's Manual
---
You can view the 2020 Audi A4 Owner's Manual further down the page underneath the image of the cover.
Clicking on the "view full screen" button will take you to a full screen version of the manual.
2020 A4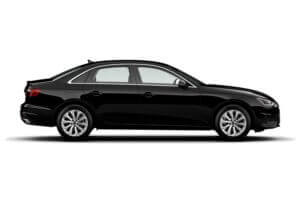 Among the many models of the enduring Audi A-Series, the A4 is perhaps the flagship sedan model. The 2020 Audi A4 sedan was notable for getting a facelift for the 2020 model year that saw new bumpers at the front and rear, a new grille, new lights and wheel designs.
Other additions included a new 10.1-inch infotainment display which became the standard across the range as opposed to the previous standard of just 7 inches, and even the previously optional 8.3-inch units. There was also a power sunroof made standard, as well as a 3-spoke steering wheel, 3-zone climate control, ambient lighting and heated front seats.
There are only 3 trim levels for the Audi A4, namely Premium, Premium Plus and Prestige priced at $38,395; $41,995; and $47,945 MSRP respectively. The mid-level Premium Plus was very popular since it gave buyers parking sensors, driver's seat memory function, blind-spot monitoring, keyless entry and USB charging ports in the rear seats. The front seat area also has a wireless phone charger.
With only a few trim levels comes also a simple offering of engines, including a 248-hp 4-cylinder standard model, and another called the Ultra. The Ultra only delivered 188-hp, but was much more fuel-efficient. All powertrains were paired with a 7-speed automatic transmission and FWD drivetrain.
It may have been marketed as an executive sedan perfect for commuters who also needed a car that doubled up as a roomy and comfortable family car, but the 2020 Audi A4 was also speedy, launching from 0 to 60 in just 5.2 seconds. It's efficient, too, getting 27-mpg in the city and 35-mpg on the highway.
Where the 2020 A4 really shines, as with many Audi sedans, is the quality of the interior. It combined sporty elements like a 3-spoke steering wheel, with sumptuous leather seats, fine finishes, high-quality materials and clean lines.
You can also find many of the same engines and features offered in the A5 and the Q7 crossover SUV due to the lines sharing the same platform.