2020 Mitsubishi Outlander Hybrid Owner's Manual
---
You can view the 2020 Mitsubishi Outlander Hybrid Owner's Manual further down the page underneath the image of the cover.
Clicking on the "view full screen" button will take you to a full screen version of the manual.
Manual Cover

Other Manuals For 2020 Outlander
2020 Outlander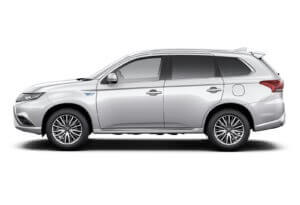 As the automotive world continues to electrify, many brands are starting to offer mild- and plug-in hybrid models to help people get used to the idea of electrification. Mitsubishi have been quick to get on that electrifying train, releasing their popular Outlander SUV as a plug-in hybrid electric vehicle (PHEV) since back in 2013. In fact it was the first SUV of all to get there, having been unveiled at the 2012 Paris Motor Show
The 2020 model obviously exhibits many improvements compared to the first models, and the Outlander PHEV continues to surprise with its power and finesse, despite not being anywhere near the priciest option in the segment with starting prices at $40,000-45,000 when new and in overseas markets (especially Europe), and around $35,000 in the US.
We mention Europe first because that's where the Outlander PHEV has enjoyed the most success, where between 2015 and 2018 the company sold around 100,000 units. What the European market loves is the advanced technology under the hood of the Outlander PHEV.
The 2020 Outlander PHEV is powered by a 2.0L inline-4 gasoline engine outputting 117-hp and 137 lb-ft of torque and managing about 25-mpg combined. That's connected to a 12.0kWh lithium-ion battery and 2 permanent-magnet motors, one in front and one at the rear.
Each electric motor outputs 80-hp, with 101 lb-ft of torque for the front wheels and 144 lb-ft for the rear wheels. That not only creates greater combined horsepower and torque, but ensures a fantastic AWD system using Mitsubishi's state-of-the-art Super-All Wheel Control (S-AWC) that brings together longitudinal torque distribution, lateral torque vectoring, and 4-wheel brake control.
It is built on the CMF-CD platform developed by Nissan that they use under their own X-Trail and Rogue models.
The interior features are a little dated in the 2020 model, but pleasant and functional nonetheless. Most people who love the Outlander buy it for the technology and efficient drive features rather than a cutting-edge design.