2021 Ford Fiesta Owner's Manual
---
You can view the 2021 Ford Fiesta Owner's Manual further down the page underneath the image of the cover.
Clicking on the "view full screen" button will take you to a full screen version of the manual.
Manual Cover
2021 Fiesta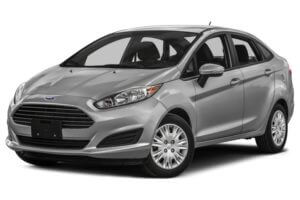 The 2021 Ford Fiesta is an example of the seventh-generation model that came in during 2017.
Its classed as a supermini and is popular across many demographics that require a small and lightweight car.
Ford used the same chassis for this car to launch a small and low-cost SUV-like car called the EcoSport that is very popular in regions such as Brazil.
Many of the engines on offer in the Fiesta are also classed as small, ranging from a modest 1-liter engine to the ST trim that focuses on performance with its 1.5-liter turbocharged engine.
The ST trim sets itself aside from the standard car with its subtle design differences and premium features inside the car.
To the left of this description, you can find the 2021 Ford Fiesta owner's manual for all of the trims sold, including the ST.
This 2021 Fiesta is used as a donor platform for the revived Puma, a subcompact crossover SUV with a taller body.
Within the first few pages, you can find a clickable table of contents that takes you straight to the section you need.
Check out the safety sections including the seat, seat-belts and airbags - don't' assume you know everything about them as they can be different model-to-model.
Climate-control buttons can be hard to understand at first and not understanding how to turn the heat up can make you and your passengers uncomfortable.