2022 Genesis GV70 Owner's Manual
---
You can view the 2022 Genesis GV70 Owner's Manual further down the page underneath the image of the cover.
Clicking on the "view full screen" button will take you to a full screen version of the manual.
Manual Cover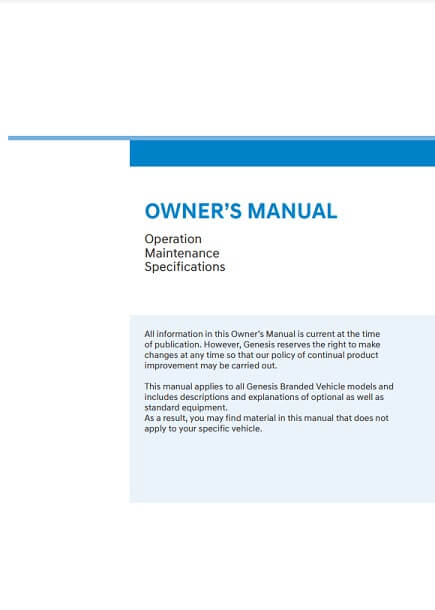 2022 Genesis GV70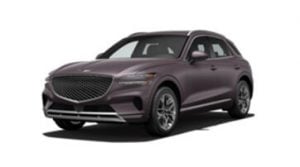 The 2022 GV70 is a compact luxury crossover SUV made by Hyundai's luxury sub-brand Genesis, based in South Korea. This is Genesis' second model, after the GV80.
It is entering a very competitive market. Some of its biggest rivals include the Audi Q5 and the Volvo XC60. It has some advantages over these cars, but also some major drawbacks.
The 2022 Genesis comes with a 2.5 Litre Turbo engine, which will do 0-60 in just over 6 seconds, which is just as good as its competition. The power in this car is great, but engine noise can be loud and annoying.
You can also get a diesel version, which is slightly slower. It will go 0-60 in 7.6 seconds, which is a little slower than its competition, but you won't feel like you're missing out on power.
One of the best things about this car is its comfort. Road noise will be at a minimum whilst driving, thanks to the large wheels which help to dampen exterior noise. Furthermore, the suspension will make any terrain smooth. It certainly lives up to its luxury name.
However, the Genesis GV70 does come with some big problems. The major issue with this model is its reliability. The Genesis simply can't keep up with the outstanding build quality of its rivals, notably Audi and Volvo. And, when something does go wrong, rival companies are much better equipped to deal with the issue quickly and efficiently.
The poor build quality of the 2022 Genesis GV70 may be because the company is new, so future models may be better able to compete in the market.
It is produced in the Uslan Plant in South Korea. This is where nearly all Hyundai's are produced. The company has been selling as many as they can produce, with record highs of 21,000 sales being reached in 2019.